The Ultimate Guide For TOEFL Test Registration
Registering and preparing for a test can cause anxiety for anybody, especially if you have to take that test in a language other than your first language. Sometimes the registration process can be even more frustrating than the test itself. There are so many different steps that it's hard to know what to do first. That's why we've put together this step-by-step guide to registering for the TOEFL.
What Is the TOEFL Test?
The TOEFL, or Test of English as a Foreign Language, is a language exam for non-native English speakers who want to attend an English-speaking university. The test has four sections: reading, listening, speaking, and writing. But before you can take the test, you'll have to go through the registration process.
Step One: Plan and Prepare
You'll want to plan in advance when you register for the TOEFL test. The official TOEFL website recommends taking the exam two or three months before you start submitting college applications. You should also plan to register about four months before the exam. The testing centers have limited availability, and seats tend to fill up quickly. An early reservation means that you won't have to worry about delaying your applications.
When you're ready to register, it's time to gather your materials. You'll need your ID, your payment method, and if you're registering by phone or mail, you'll also need a registration form. You can find the registration form and a list of acceptable payment methods by visiting https://www.ets.org/toefl.
If you register by phone or email, you'll also need certain registration codes. You can find those at https://www.ets.org/toefl/ibt/register/codes.
Step Two: Find Dates and Locations
Next, you'll want to find the testing date and location that works best for you. You can find testing locations online. First, visit the TOEFL home page. Then find the link that says "Register for the Test."
The link will take you to the registration page. From there, click the link that says "check your location." It's the first link on the main section of the page.
Step Three: Register
Next, let's look at registration. You have three different registration options, but keep in mind that you only have to choose one of them.
Registering Online
We highly recommend the online registration method for most students because it's the fastest, easiest, and most convenient method. From the homepage of the TOEFL website, find the "Register for the Test" link, just like you did when you found your test location. From there, scroll down to the "Register Online" button.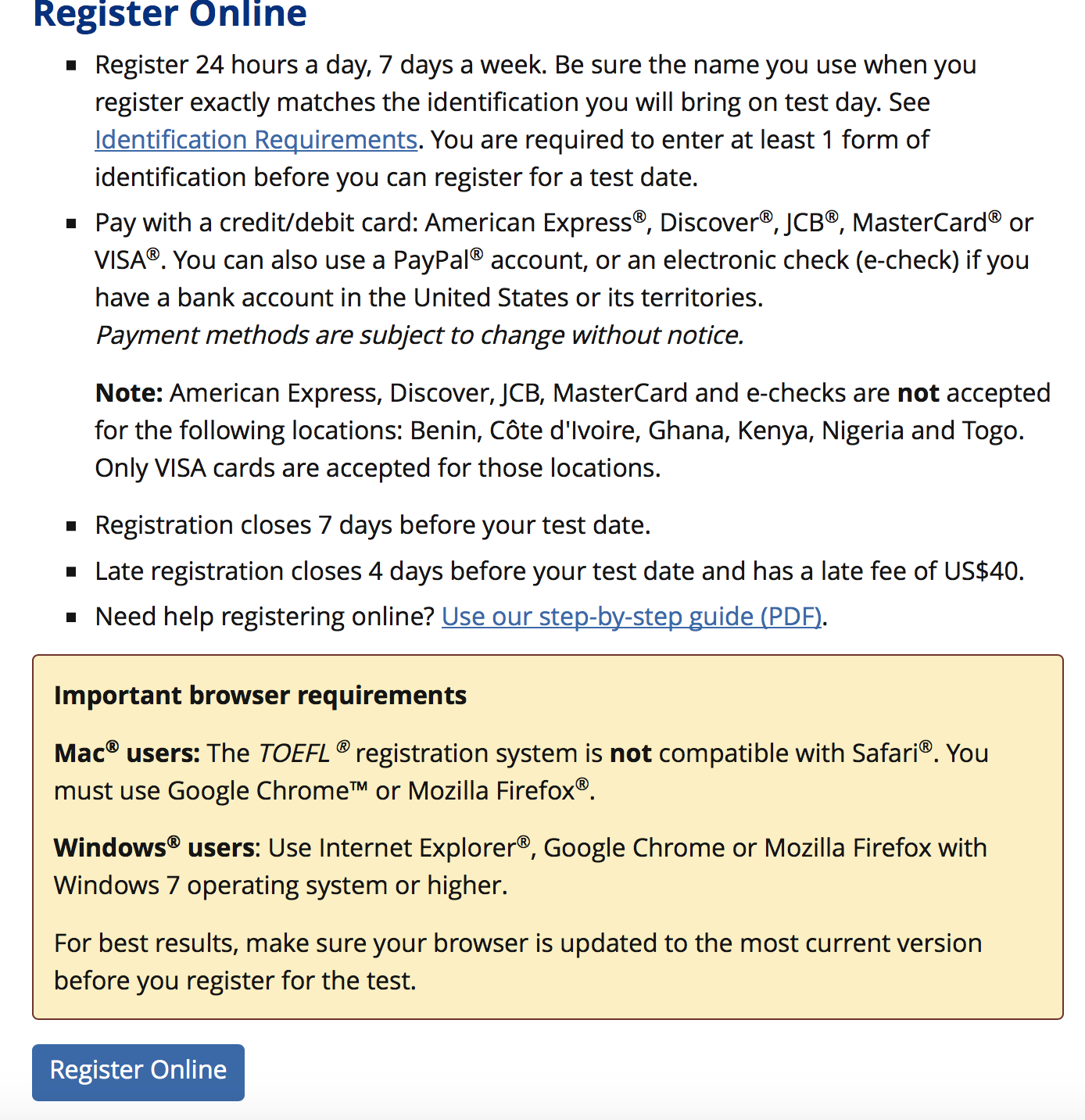 From this point, you can log in if you've already created a profile. If you haven't created a profile, it's an easy process. Just click on the "Sign Up" button and then fill in the information on the screen.
Once you've created a profile, log in. From there, you can go back to the home page and click on "Register for the Test." This time, you'll be given prompts onscreen to register. Follow the prompts, and within a few minutes, you'll have a confirmed spot at your testing location.
Registering by Phone
Just like with online registration, phone registration starts at the registration page. Scroll past the "Online Registration" section to find the section titled "Register By Phone."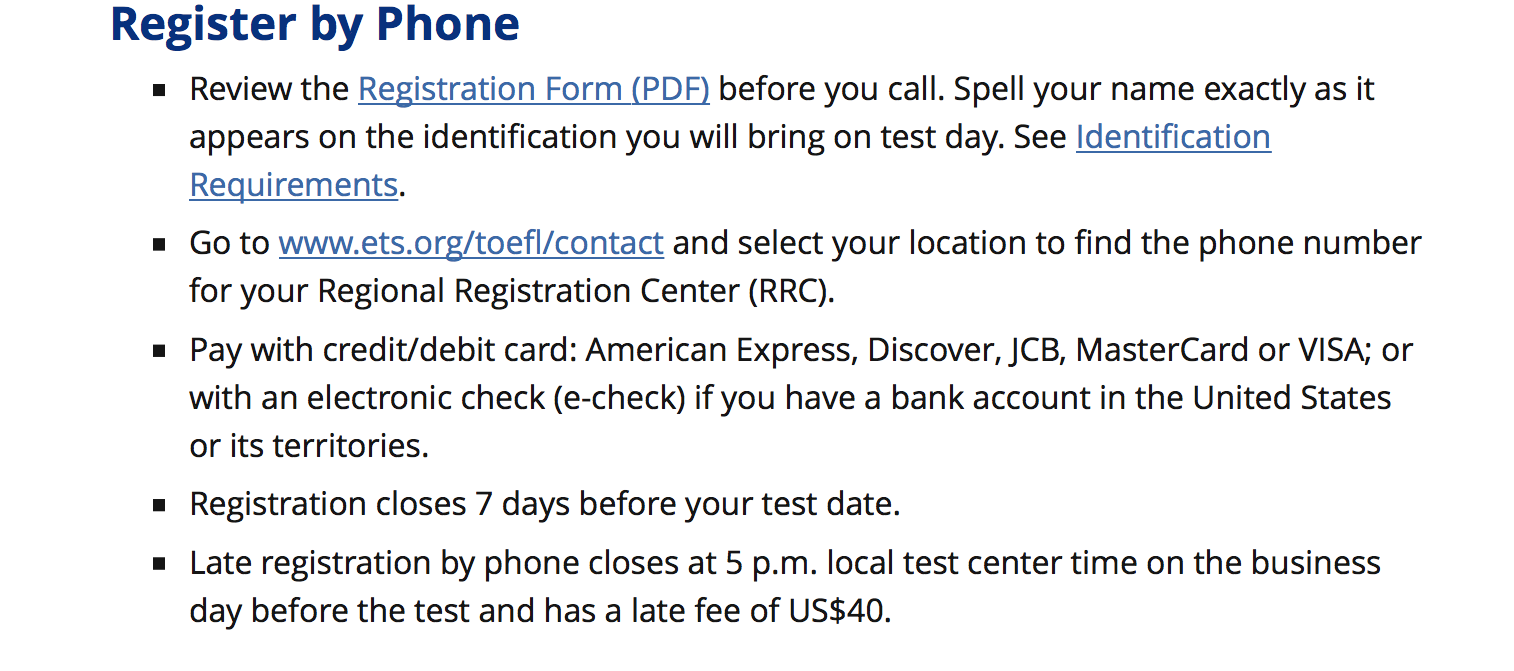 It's a good idea to review the registration form from there. You'll find it by clicking the first link in this section. Make sure that you have all of the necessary information for the form and that all of your information is accurate. The person to whom you speak on the phone will ask for this information, and the whole process will go faster if you have it ready.
Next, click the link to the contact page. It's the third link in this section. That link should take you to a page that looks like this: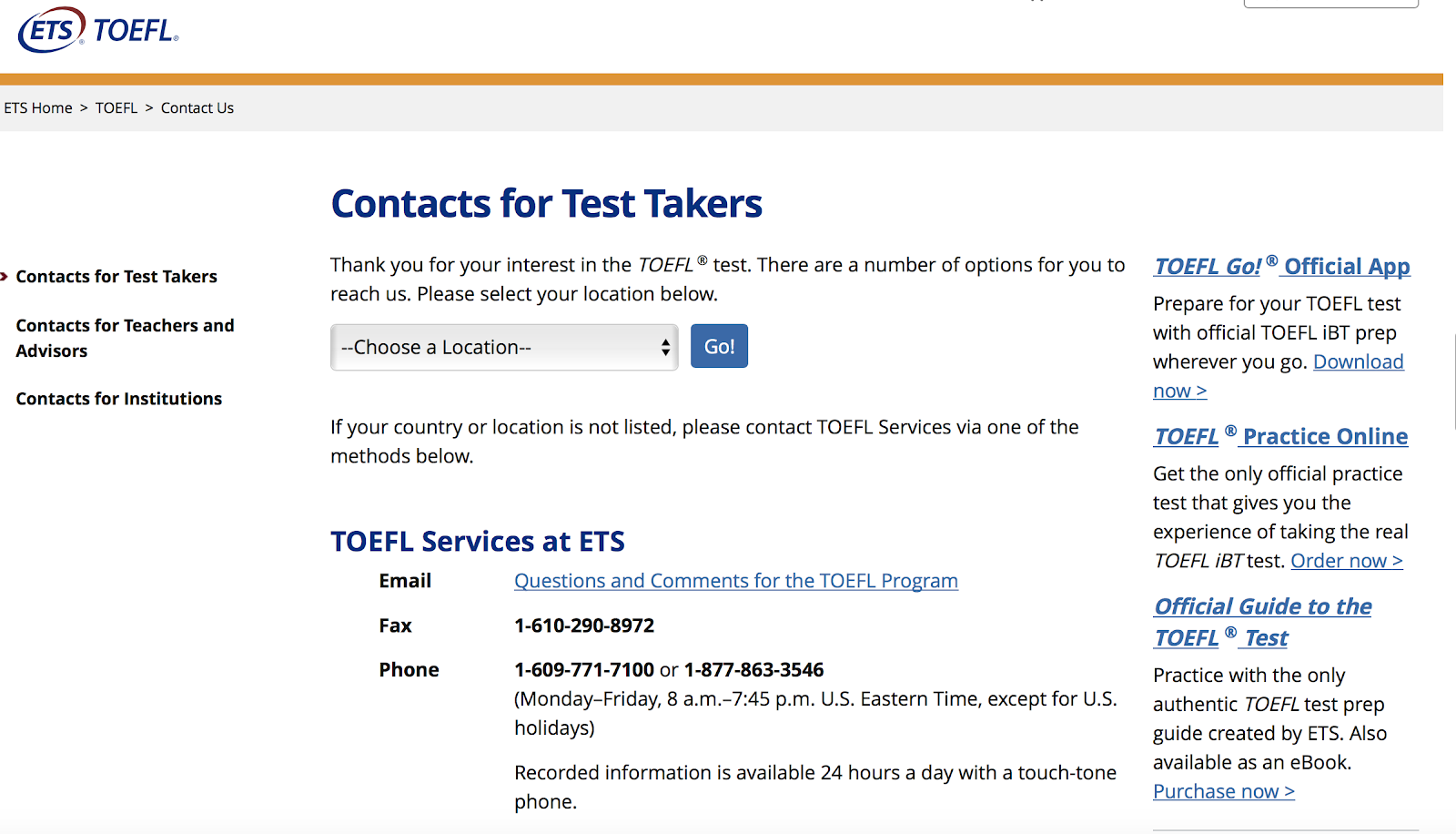 Choose your location from the drop-down menu. From there, you'll find the phone number for your Regional Registration Center (RRC). You can then call that number to finish the registration process.
Registering By Mail
If you register by mail, remember that the form must be received at least four weeks before your test date. Find the registration page just like you would for online or phone registration. Scroll down to the section called "Register By Mail."
Click on the first link. It will take you to a PDF version of the registration form. Print this form, and fill in your information. Double check to make sure that all of the information is accurate. Once you've completed this form, mail it to the address on the form itself if you're taking the test in the US or Canada. Otherwise, mail the form to your RRC. You can find the mailing address for your RRC by visiting the same contact page mentioned above.
Important note: If you don't receive a confirmation, make sure to contact the location where you mailed your form at least three business days before your registration deadline.
Step Four: Decide How to Study
Now that you've registered for the TOEFL test, it's time to start your study plan. Everybody works and learns differently, so choose a method that works for you. When you sit down to study, plan to take breaks. Use the resources available from https://www.ets.org/toefl/ibt/prepare/. And if you'd like some extra help, Best My Test is an excellent way to study.
Best My Test
If you want to make the most out of your study time, the TOEFL prep at Best My Test can help you study at any time and place. With Best My Test, you get a complete TOEFL course that comes with feedback from real instructors. The app makes studying convenient, and you can even take practice exams. If you want to do your best on the TOEFL, visit https://www.bestmytest.com to start your seven-day free trial today.
Looking for TOEFL preparation?
Check out our NEW TOEFL prep online learning tool called TOEFL Tutor.
TOEFL Tutor will help you achieve your target score with 1500+ TOEFL practice questions.