Introduction to the TOEFL Reading Section
The first section of the TOEFL iBT Test is the Reading section. This section measures a candidate's ability to understand written university level academic text and passages. In this guide, we will give you a full introduction to the Reading section on the TOEFL.
About TOEFL Reading Section
The TOEFL iBT Reading section has  3-4 reading passages of which each has 12-14 questions. Candidates are allocated sixty to 60-80 minutes within which they are supposed to be done with the questions in all the sections.
| Reading Material | Number of Questions | Timing | Scores |
| --- | --- | --- | --- |
| 3-4 Passages | 12-14 Questions each | 60-80 Minutes | 30 |
The passages in the TOEFL reading are similar to what you would find in an introductory undergraduate university textbook. Most of the context of the passages is North American, but you may also see some international contexts from United Kingdom, Australia, and New Zealand. The passages cover a wide range of topics such as 
Social science including anthropology, economics, psychology, urban studies, and sociology
Science and technology including astronomy, geology, chemistry, biology, physics, engineering
History, government, biography, geography, and culture
Art including literature, painting, sculpture, drama, and architecture
When you begin the Reading section, you will see a reading section direction. After clicking on the "Continue" button, the Reading section begins immediately.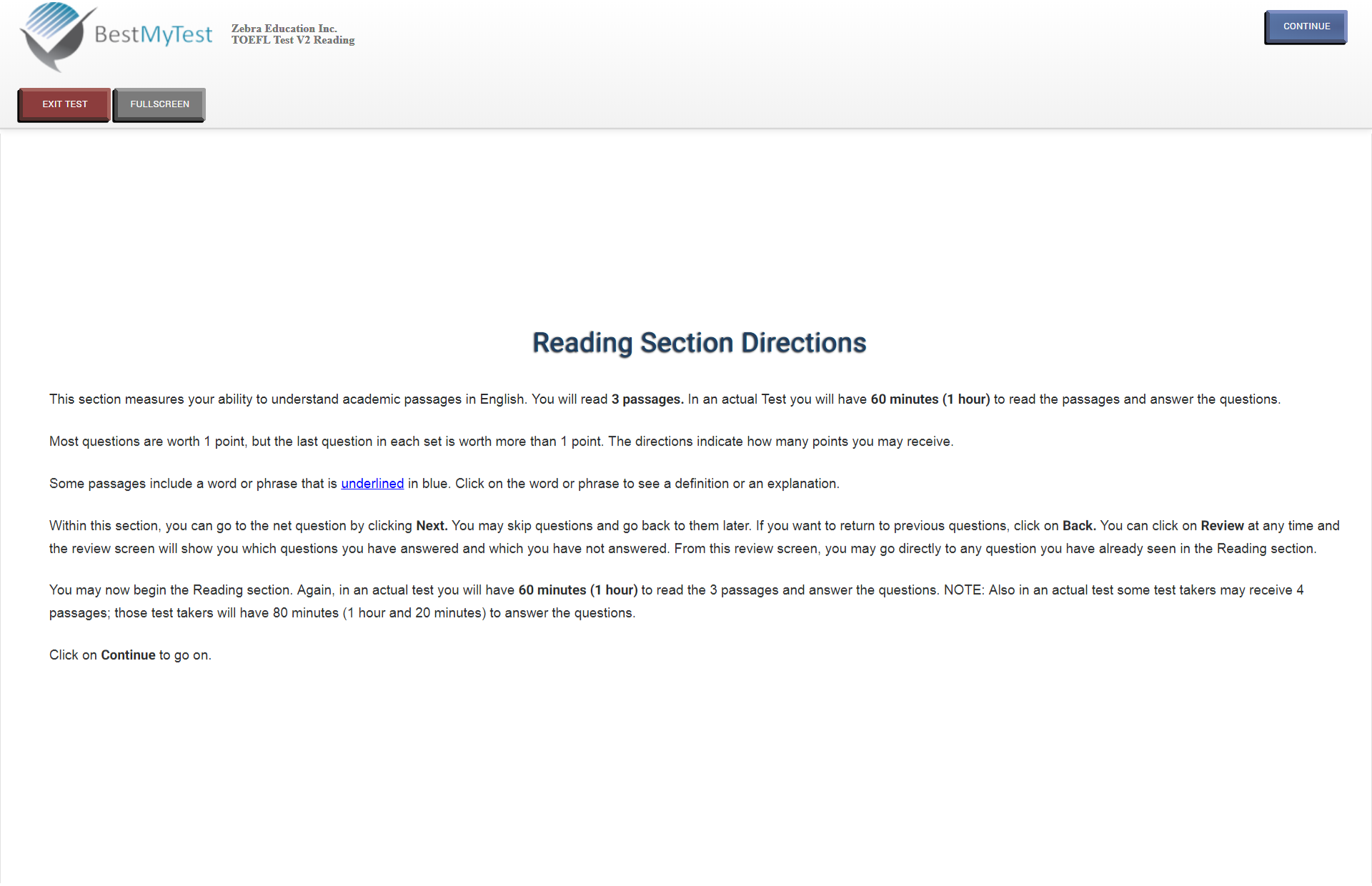 When you click on the "Next' button, the first question shows up.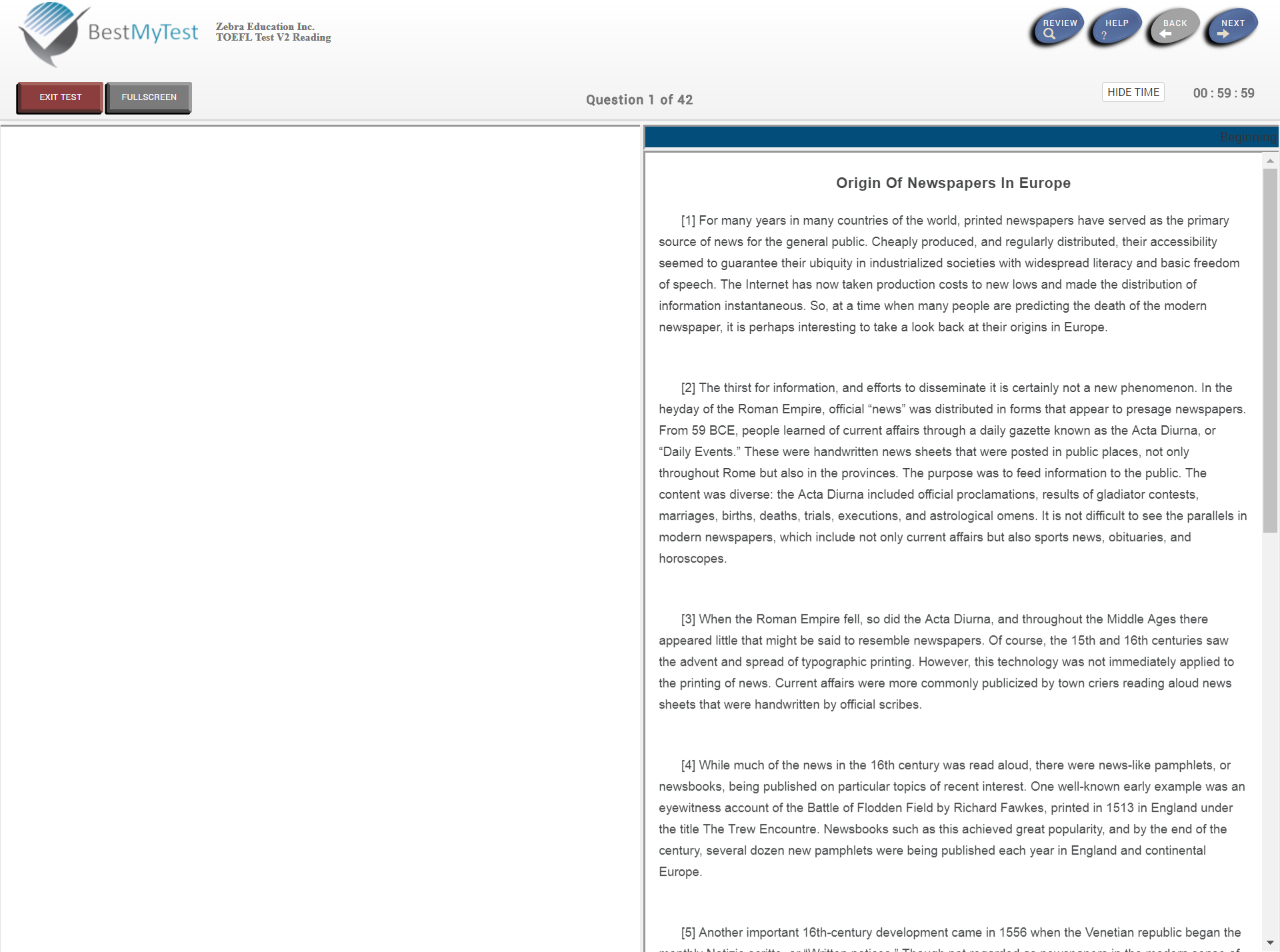 Formats of Reading Questions
There are three formats which questions may assume in the reading section. They include:
A traditional multi-choice answer type of question with four options and one correct answer.
Questions with four choices and one answer that require one to "insert a sentence" in the best fitting position in the passage.
Questions with over four choices and more than one correct answer ("Reading to learn questions").
Each question must have a reading to learn type question testing the candidate's ability to recognize the organization of a passage and understand the relationships among facts and ideas in various parts of the passage. Samples of such questions may be found on the learning section of our TOEFL preparation course. This site has a wide range of wide reach of test material formatted as mock tests to see how ready the candidate is for the real one.
Conclusion
For TOEFL iBT test candidate, the best practice for one's English-language skills is regularly reading. Especially advisable is reading university textbooks or other materials covering a wide range of issues from a wide area of coverage, be they sciences, arts or social sciences, so long as they are written in an academic style. Our learning course contains question banks on all types of possible questions and ways to handle them best. From a viewpoint of information, our experienced TOEFL exam team have incredibly valuable pointers and tips to their clients on how best one could attempt and pass the exam.
Looking for TOEFL preparation?
Check out our NEW TOEFL prep online learning tool called TOEFL Tutor.
TOEFL Tutor will help you achieve your target score with 1500+ TOEFL practice questions.